---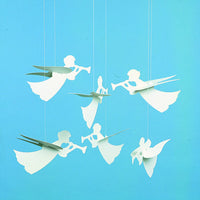 Engle mobile
Designed by Christian Flensted
The absolutely classic angels from Flensted, who are both beautiful and simple.
Six white angels with a simple graphic expression that contributes grace and elegance wherever you hang them. They are on the wings with cozy Christmas mood and you can almost hear their fanfares for you!
For many, this turmoil, designed by the company's founder Christian Flensted, is a regular part of the Christmas decorations that are happily found year after year. The Angel mobiles are packed in nice boxes, so they can just be packed well and taken out again the following year.
Pack them carefully and you will have the Christmas spirit hanging over your head for many years.

Size approx. 30 x 40 cm
Flensted Mobiles