---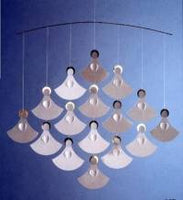 Englekor 16
Designed by Ole Flensted
The Angel Choir (here in the version with 16 angels) has become a real classic in our range.
It is certainly not without reason. For the mobile's simple look and use of materials goes across time and place. In addition, charming details such as the halo of gold and the small heart wings that can be folded back.
Then choir singers get wings, and at the same time they close the light through and out of the hearts.
Size 45 x 45 cm.
Flensted Mobiles