---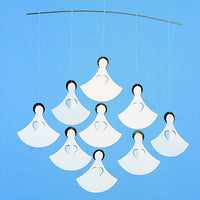 Englekor 9
Designed by Ole Flensted
Once the angel choir has once lit up your living room and sung Christmas in, you are already looking forward to their next visit.
For the nine angels, everyone around them charms with their easily recognizable, classic and completely simple form. The angels have small hearts on their chests that, when unfolded, simultaneously act as wings.
If you put a spotlight on the angel choir with a gentle lighting, then both the angels and their little heart wings will create fascinating shadows on the wall behind the mobile.
Therefore remember to "open" the hearts. Then the angels perform a beautiful and graceful shadow play for you.
There are many reasons why the Angel Choir has not only become a classic in our Christmas range, but has also become a permanent Christmas decoration in many homes around the world.
It will not be Christmas here until the angel choir has sung and swung Christmas in.
Flensted Mobiles