---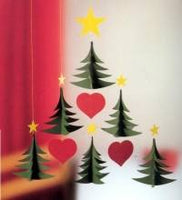 Christmas Tree 6
Designed by Ole Flensted
At the beginning of the 19th century, the first spruce trees were set up in Danish living rooms, and the Christmas tree tradition was born in this country.
Today, the Christmas tree is still a focal point of the modern Christmas, and the tree is a beautifully decorated gathering place for the whole family.
The elegant Christmas tree mobile has captured this whole Christmas mood with its simple means - and with a successful combination of six small Christmas trees, hearts and the big star at the top.
At the same time, the graphic design means that the elements together form one large Christmas tree. The mobile has become a simple, elegant and cozy symbol of the whole Christmas mood and soul.
On the desire to give. And at the time of year when love is a gift in itself.
Size: 42 x 34 cm.
Flensted Mobiles