---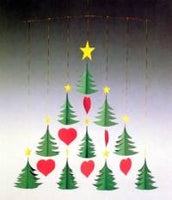 Christmas tree 10
Designed by Ole Flensted
Green spruce trees, red hearts and on top a beautiful yellow star.
The large Christmas tree mobile (with ten trees) from Flensted Mobiler has collected three classic Christmas symbols in one charming mobile that exudes a classic Christmas atmosphere, and only when the Christmas trees dance in the air is Christmas really started!
Suddenly you remember again the delicious scent of fresh spruce. Thinking back on wonderful Christmas Eves around the Christmas tree - and forward to the next Christmas Eve waiting just around the corner.
When taking your mobile out of the box, remember to unfold the trees. This is because it adds an extra dimension to the mobile's expression.
Only on the other side of Christmas Eve will the Christmas trees have to be folded again and packed down so that you can enjoy your mobile phone for many years to come.

Size: 50 x 45 cm.
Flensted Mobiles